Weiterführende Informationen
Top content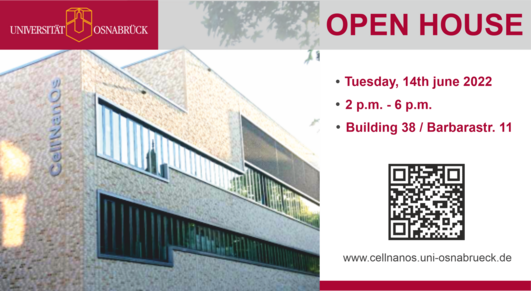 CellNanOs Open House
SAVE THE DATE: 14th of june 2022, 2. pm. - 6 p.m.
We welcome students, researchers, administrative staff of our university to our first OPEN HOUSE at the CellNanOs Research Center.
CellNanOs Highlight Talks
Lab-Demonstrations (Fluorescence Microscopy, Electron Microscopy, etc.)
CellNanOs Student Lab (Poster session, Master Nanosciences @ CellNanOs, etc.)
New publication on the cover of Cell Reports Methods
In this current issue of Cell Reports Methods we are featured with our article on the cover
Four-color single-molecule imaging with engineered tags resolves the molecular architecture of signaling complexes in the plasma membrane
Bellón JS, Birkholz O, Richter CP, Eull F, Kenneweg H, Wilmes S, Rothbauer U, You C, Walter MR, Kurre R, Piehler J.
7 Mar 2022
New high-end transmission electron microscope for structural biology
3 million euros for cutting-edge research at the University of Osnabrück
14 Apr 2021
Publication in eLife
Nanoscopic anatomy of dynamic multi-protein complexes at membranes resolved by graphene-induced energy transfer
Füllbrunn N, Li Z, Jorde L, Richter CP, Kurre R, Langemeyer L, Yu C, Meyer C, Enderlein J, Ungermann C, Piehler J, You C
29 Jan 2021
Behind the Scenes - Research Excellence in Lower Saxony
As part of the series "Research Excellence in Lower Saxony", Prof. Sabine Zachgo and Dr. Michael Holtmannspötter present their recent work on superresolution imaging of transcriptional regulation in cell nuclei of plant roots.
17 Jul 2020